how to get paid for reviewsYou won't find a sports betting app offering a more newbie-friendly welcome bonus than bet365, and its many in-play betting options, easy-to-navigate interface, and substantial market coverage make it worth staying around for the long haul. DraftKings Bet $5, Get $150 in Bonus Bets Claim $150What we like
how to get paid for reviews
how to get paid for reviews
seth jeremiah wadsworth (45) passed away unexpectedly, but peacefully of a heart attack while hunting which was one of his favorite things to do.
seth was born on 1/21/77. he spent his life dairy farming on the family farm, his own farm, and for the last 14 years at the eildon tweed farm as the operations manager. he continued to breed milkworth holsteins while working at eildon tweed farm in charlton, ny.
oct 1999 – started renting family farm – charter oak farm and breeding milkworth holsteins in potter ny.

may 2004 – bought the family farm

oct 2006 – sold the farm in potter ny and purchased a farm in laurens, ny

may 2008 – sold his herd and equipment to eildon tweed farm – and started working for eildon tweed.
the herd was milking around 600 head when he started at eildon tweed which grew to over 1600 milking head today. seth loved farming and hunting and spending time with his family in no particular order but all else took a back seat to his family. if you were a kind and goodhearted person, then you were family because you were just like him. despite working long hours in the fields, if you needed him all you had to do was turn around and he was there. seth was an exceptionally good-natured person with a wonderful smile who got along with most everyone, and he had many friends to prove it.
he was devoted to blake and ryleigh, their activities and was an excellent father. he was very thankful for courtney coming into his life as she brought so much happiness and love to his life. seth is survived by the love of his life fiancée courtney pettis, his son blake wadsworth, daughter ryleigh wadsworth, mother holly (steve brind'amour) lange, father john (cathy loiacono) wadsworth, sisters amanda (william hendricks) wadsworth, and eden (nolan) arthur, and brother johnwinthrop (megan)wadsworth.
a great light has gone out in the universe, but it didn't extinguish. it's just out there shining just as bright for us to remember and unite with whenever we think of him. a celebration of seth's life was held at the west charlton, ny fire house on november 12th with over 250 people attending.
seth jeremiah wadsworth eulogy – 1/21/1977 – 10/30/2022 - by his father, john r. wadsworth
i would like to start out by expressing my sincere thanks and appreciation to all of you for coming to this celebration of seth jeremiah wadsworth's short life. i have been so moved by the outpouring of support from family, the community, dairy industry and holstein fraternity for seth and his family. so i thank you from the bottom of my heart and our family's heart for this support.
i will try to get through my comments without pausing too much. i will tell you a bit about seth's life and some of my memories. seth was my oldest son born on 1/21/1977, a year and a half after holly and i had started farming in caledonia ny, this was jimmy carter's inauguration day. holly's mother arrived a day later, just prior to a blizzard that brought over 3 ft of snow to buffalo and the area. our 44 cow dairy required both of us to do the work and seth spent a lot of time sitting in a stroller while we milked, he did complain occasionally, but not too much. we had moved out to new york from ct and both holly's and my families, they did make regular trips out to our farm but we did not have much help those early years. so seth grew up in the barns and never left them other than for school and college.
seth grew up involved in 4h and junior holstein activities and working on the farm. he developed a love of showing cows, looking at good cattle and all types of farm work. he loved to work and work hard. i recall when we were scheduled to go on a long planned trip to a family event in connecticut. the day before our departure, our farm employee injured himself unloading hay and would not be able to run the farm in our absence and thus seth stayed home with me while the rest of the family left for the trip. seth was about 10-11 and while the family was gone we unloaded a wagon load of straw, seth put the bales on the elevator, me in the mow. we finished and he was so happy, he said "i've been wanting to unload a whole wagon load alone for a long time"! he loved working!
we were looking for a heifer for seth to show and we were not having luck finding one we could afford. finally, we looked through our pens again and selected an odyssey daughter, milkworth odyssey anise, that we had bred and we said "there is your heifer". he then showed this heifer/cow for 8+ years and she ended up 92 points. she won many champion ribbons for seth and he won many showmanship classes with this cow. ryleigh now has a milkworth 3 yr old named anise that has also done well at the shows.
seth went to suny morrisville and after graduating in 1997 from there he worked at autumn ridge holsteins for over a year and then went out west to washington state and worked on a 650 cow dairy out there. in may of 1999 we had our milkworth herd dispersal and in september, seth came back to potter and rented the farm and milked cows for vantage point holsteins as a way for him to get started building his herd. this worked well and in 2004 he bought the farm and equipment from me. in 2006 an opportunity presented itself and he then sold the potter farm and bought one in laurens, ny. despite a lot of hard work and effort, this farm did not work out as planned and in the spring of 2008 he sold his cattle and equipment to eildon tweed, started working there and joined this nice community in saratoga county.
i am very thankful for the opportunities he had here, both at eildon tweed and in the dairy community for the past 14+ years. perhaps one of the best aspects of this job was that he could take some time to attend and be involved with blake and ryleigh's activities from school sports to 4h to jr holstein. he also made sure that they skied and he would go skiing with them. he also taught blake how to hunt. these are the things that seth grew up with and were important to him and he wanted his children to have the same opportunities he had.
i did not necessarily see seth much for a few years, maybe once or twice a year, but we did talk fairly often. i loved hearing him tell about the challenges of managing a large herd, his breeding results, classification news, pedigrees, ivf, showing, and of course the family. when i would see his name on my phone, i would think they must have just classified or gotten back from a show. however, he was not only involved with the cattle at eildon tweed and he would also tell of merging hay, picking rocks, packing silage, etc. he loved working! i am sure that dave would say that seth may have taken time from the farm but made up for it over and over by working late and always putting in 110%. during the fall – spring seth would tell me about the dairy bowl practices and how the teams were doing and when the contests were and how the teams did with a lot of pride.
there were a lot of challenges in seth's life, but he was a unique person, i can't remember him saying a negative thing about anyone, including people that i thought he should. he was just such a positive person who loved working, loved his family and took the time for his children's activities. cathy and i were lucky this year in that we saw him a few times, down at virginia beach in april and at our family reunion in geneseo in july and a couple of other visits. we talked often and he was so proud of blake and ryleigh and how much closer they had become this year and they had really bonded and were enjoying spending time together. shows were not work they were vacations with each other. i don't mean to paint seth as a saint as he knew how to enjoy himself also, just ask his brother and sisters and probably some of you here today.
it is so wonderful that the family was all together at world dairy expo in madison this year, blake with his production cow in the shows and ryleigh with junior dairy leaders and national 4h activities with seth and courtney there watching. seth loved the trip and how blake did, however i think he had blake's cow a couple places higher than the judge. many people who saw him out in madison have told me how much seth loved telling them how the kids and the family were doing, smiling all the time.
as i have tried to deal with the loss this past couple of weeks i must say when i saw the outpouring of generosity with the go fund me page and heard from so many people who told me how shocked they are and so sorry for his passing the emotions that pour through my body are overwhelming. these funds will be very important for courtney, blake and ryleigh as they deal with the loss of seth's income and cover outstanding bills and funds due. courtney will be the guardian of ryleigh and provide for her to continue and finish school at burnt hills and provide a warm home atmosphere for both blake and ryleigh. i have to say that i am very thankful for courtney coming into seth's life in late 2018 and the happiness and love she brought to his life.
i have said it often to my family this past 2 weeks that i could not be prouder of my son and the type of man that he was. i respect the way he lived his life and his attitude towards others. people knew him and liked him: happy, smiling, cheerful, willing to help out anytime, he always saw the good side of people. as courtney's brother jay said so nicely in the obituary, if you were a kind and goodhearted person, then you were family because you were just like him. despite working long hours in the fields and barns, if you needed him all you had to do was turn around and he was there. a great light has gone out in the universe, but it didn't extinguish. it's just out there shining just as bright for us to remember and unite with whenever we think of him i thank you from the bottom of my heart for your words of comfort and presence here today as we celebrate seth's life. we will all miss him.
read at seth's celebration of life on 11/12/2022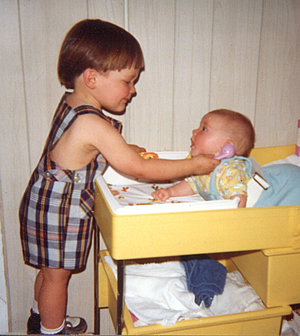 seth with new sister amanda - 1979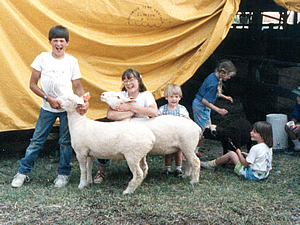 seth w/amanda, johnwinthrop & eden and sheep at county fair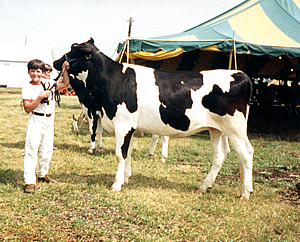 seth w/ anise as heifer at county fair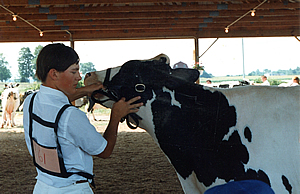 seth w/ heifer at regional show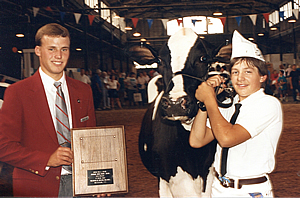 seth w/ anise at state fair- 1st 4 yr old!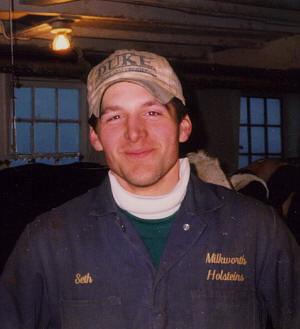 seth at potter farm

seth at eildon tweed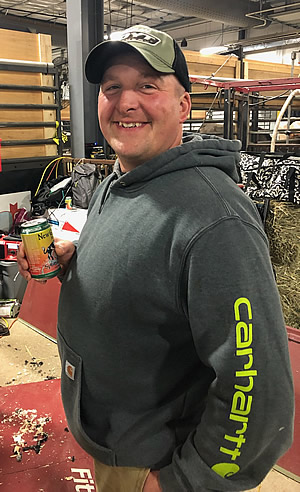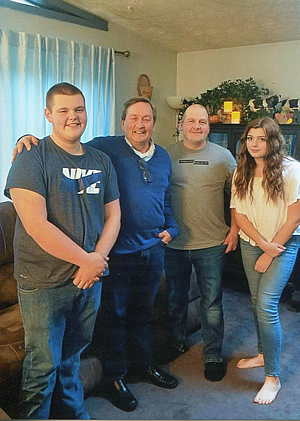 seth at wde in 2021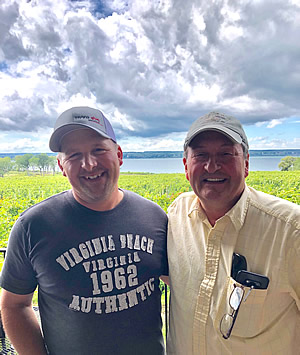 seth & dad- john in 2019